Klaus Schwab says, "What it means to be human?"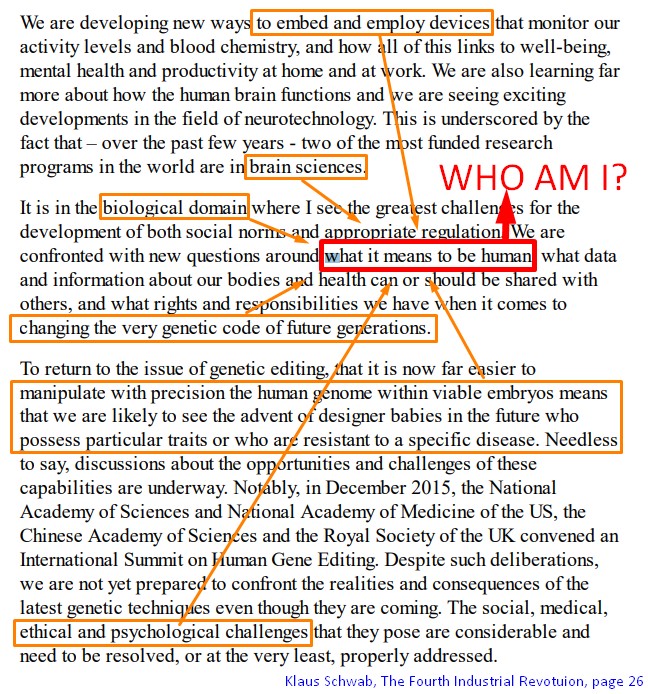 The meaning of life is to give life meaning
Ketahuilah bahawa kehidupan dunia itu tidak lain hanyalah permainan dan hiburan serta perhiasan, juga bermegah-megah di antara kamu serta berlumba-lumba membanyakkan harta benda dan anak pinak; samalah seperti hujan yang menjadikan penanamnya suka dan tertarik hati kepada kesuburannya, kemudian tanaman itu bergerak segar, selepas itu engkau melihatnya berupa kuning; akhirnya ia menjadi hancur bersepai; dan di akhirat ada azab yang berat, dan keampunan besar serta keredaan dari Allah. Dan kehidupan dunia ini tidak lain hanyalah kesenangan bagi orang-orang yang terpedaya (57:20)
What it means to be human?
I am HUMAN
Who am I?



Iman



NOT animals

Orang-orang yang kafir menikmati kesenangan di dunia serta mereka makan minum sebagaimana binatang-binatang ternak makan minum, sedang nerakalah menjadi tempat tinggal mereka. (47:12) Bandingan orang-orang kafir (transhuman) samalah seperti orang yang berteriak memanggil binatang yang tidak dapat memahami selain dari mendengar suara panggilan sahaja; mereka itu ialah orang-orang yang pekak, bisu dan buta; oleh sebab itu mereka tidak dapat menggunakan akalnya. (2:171) Sesungguhnya Kami jadikan untuk neraka jahanam banyak dari jin dan manusia yang mempunyai hati tidak memahami dengannya, dan yang mempunyai mata tidak melihat dengannya dan yang mempunyai telinga tidak mendengar dengannya; mereka itu seperti binatang ternak, bahkan mereka lebih sesat lagi; mereka itulah orang-orang yang lalai. (7:179)

YOU ARE (a man of great moral) CHARACTER. (Quran 68:4)



| No | Signs | Meanings |
| --- | --- | --- |
| 0. | Argument: | "stupid is, as stupid does" |
| 1. | Flood | Mix up truth with falsehood, facts/opinions |
| 2. | Blood | Economy: riba, blood money, loan shark, market manipulation, cronyism etc. |
| 3. | Locust | The destroyers: Falsity which is the extremes of the natural, locust swarm |
| 4. | Lice | Ignorant: The evils whic are in the sensuous, from gross and stupid mind. |
| 5. | Frog | Being neutral: reasoning from falities; "frog in a boiling pot" |
| 6. | Wolf | Tyrants/enforcements etc: one who seizes and scatters, divide and conquer |
| 7. | Sheep | Brainwashed: religion of self-deception, "slaughterhouse," deaf, dumb and blind |
| 8. | Cow | Charity/majority/blind worshippers/lips service: lips denote the things of doctrine. |
| 9. | Donkey | Scholars: memory-knowledge, education vs. intelligence, carry evils burden. |
| 10. | Pig | Qarun/riba: "Nation of sheep, ruled by wolves, owned by pigs!" |
| 11. | Monkey | Servants: "monkey see, monkey do," "hear no evil, see no evil, speak no evil" |
| 12. | Ant | Hard work, team work etc, but for something insignificant or stupid; ant nest. |
| 13. | Spider | Mystery, power, growth: spider's web is the frailest of all dwellings. |
| 14. | Serpent | Tongue and poison: reasoning from sensuous things and memory-knowledge. |
| 15. | Zebra | Idolaters/blind followers: "A zebra does not change its spots." |
| 16. | Pharaoh | Enforcement: banker, government, military, police, judiciary etc. |
| 17. | Haman | Propaganda: media, legislative, religious authorities, scholars, experts, politics etc. |
| 18. | Qarun | Economy: technologist, riba, economic slavery, cronyism, creditism etc. |


IF human




THEN not animals




ELSE not human

I am HUMAN

Syaitan-syaitan manusia

dan jin, setengahnya membisikkan kepada setengahnya yang lain

kata-kata dusta

yang indah-indah susunannya

untuk memperdaya pendengarnya

. (6:112)

Where am I going?

Amal

Why am I here on Earth?

Support